Things have definitely been picking up since my last check-in. I still haven't located "my guy" but the more time we spend with the students the more apparent the curious ones become. So hopefully I'll be able to discern a student that I can develop a friendship with soon as we are almost near the halfway mark of our time and relationships in Japanese culture take a very long time to cultivate but they also last an extremely long time.
The students of BEST club have had quite a few events lately so that has been a huge help in getting some time with them and it relieves both sides of the stress of trying to create a meeting. It also allows the Japanese students to relax and be themselves with their friends. Spending time with Gaijin (GUY-jeen, or foreigners) is pretty tiring for the students as they try to communicate using the textbook english they learned at school or one of the classes they took. Also the students usually will compase an entire thought in their head in Japanese, translate it in their head and then deliver the message, so fir them it makes commincation a real exercise and eventually tiring. You can almost see the relief when they go back to speaking Japanese with thier friends so it's nice for them to have that option at these events and break up the "English Time".
So every Thursday we have "SPORTS" and basically it serves a similar purpose to ultimate frisbee for the ASU navs (which is to have fun and serve as an entry activity to the club). After SPORTS usually we will go get something to eat and then have "Creative Time", which is a different evening activity every week. The 1st week it was the trip to the mountaintop、and last week we were supposed to take a trip to the country to look at fireflies, but due to some complications with the transportation had to "settle" for setting off fireworks at the local beach.
Being from AZ where this is illegal, this was a huge treat for me, but probably just so-so for the rest of the club.
Anyways it gave me a good chance to talk to a few of the students as we just sat on the beach. I spent some time talking to a student named Toshi who is a sophomore at ShizDi (the local university) and we talked about some school, hometowns, and music. A lot of the Japanese really like American music so it provides a good conversation starter, Toshi is a fan of Muse, and Green Day (those are pretty popular american and british rock groups for the older folks). Really when talking to the students you make a lot of small talk because that is all they have learned so far, but hopefully the student becomes comfortable and breaks off script at some point. I also talked to a freshman named Vido who is studying economics at the university. Apperently he attend Elbert's (the mid term staff we are living with)
class regularly and understood a lot of English. We talked about baseball in America and Japan and living far from his hometown. Like a said a lot of small talk.
So after that we decided we were hungry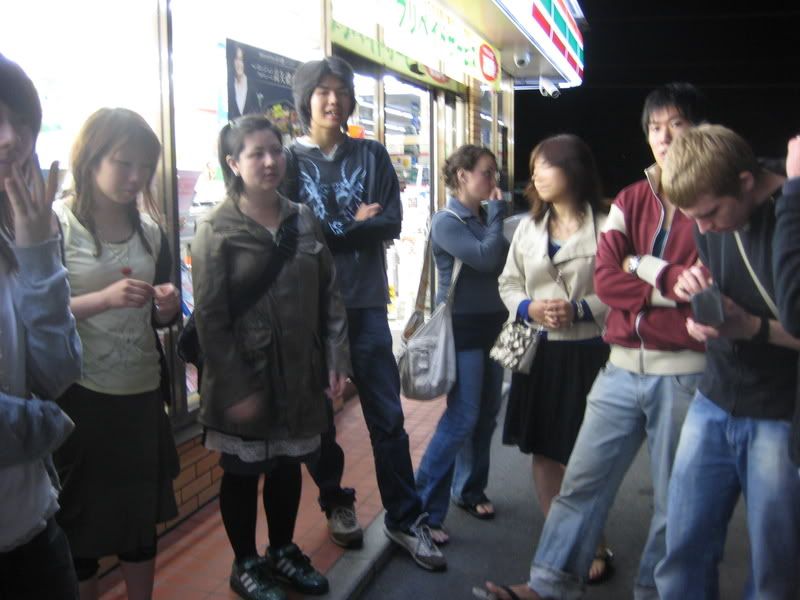 so a smaller group of us rode to
Gusto
which is a late night restaurant similar to IHOP or Dennys。 It was another good chance to relate to students mostly by just making the effort to spend time with them.
Friday Kanako took us to Karaoke with a bunch of Japanese students. Karaoke is a little bit different than I guessed, its not a large room full of strangers with someone on a stage crooning some 80s song while the rest of us look on. Insted you get a small room with a booth and a large tv and so you and about 6 or 7 of your friends take turns singing songs. It was cool cause then your not singing for a room full of strangers but you ARE going to sing. you cant avoid it in that small a room. S o I went ahead and butchered some songs from the Beatles, Red Hot CHili Peppers, Toshi sang a Muse song with me,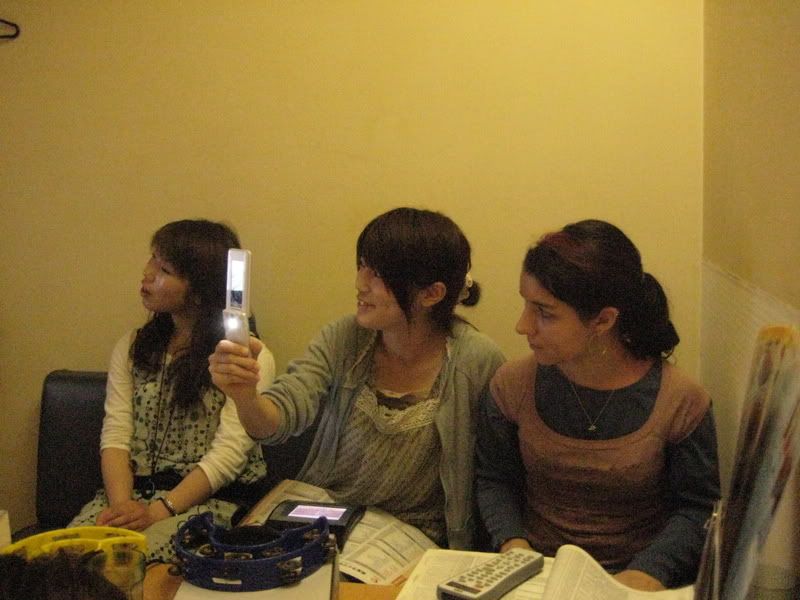 and a couple others. We started at about 9p and finished at around 4am which is typical for a night of Karaoke.
That Saturday BEST had a BBQ at the beach where we ate Yakisoba (grilled noodles with vegetables and beef) and played some games. One of the neat aspects about the game portion of the BEST activities and even the SPORTS activities is that the guys make sure the girls are always included. So we played some dodgeball, had a wheelbarrow race, and a foot race. My team did pretty good at dodgeball and wheelbarrows but I and the rest of the americans got wasted in the foot race.
On Sunday we attended Joy Fellowship which is the local Christian church attended by most of the staff and a grand total of about a dozen other people. It was pretty small but the message was encouraging (he talked about the background people in Jesus life and how even they were part of God's plan) and I played along with the worship team on an instrument called a Cajon,
which is kind of like a box with guitar cords and jingle bells inside.
Later that night we had the first weekly "American Night" meeting, which is basically a very quick worship service for our team and whatever students we can drag along. We ate dinner together, sang a couple songs, Cody read a verse and shared a thought, then we had a quick sharing time. The evening is mostly geared towards our team but the 2 students who we dragged into it seemed to like it. Last week we had M&M cookies and tomorrow we're supposed to try and make hamburgers and french fries.
On Monday we had our Bible Study on 1st Peter, and our meetings about general housekeeping stuff. Myself, Kathryn and Becky also had a meeting with Nagai-San to discuss curriculum for the Wednesday night english class we are taking over. Nagai-san gave us some good direction and really tried to explain to us that we need to start from square zero on every part of the Bible portion of the class as students have no experience whatsoever with the bible or jewish culture. He tried to explain that for years missionaries had been trying to reach the Japanese and had failed because they did not adjust to the Japanese culture and had instead tried to force the idea to a people that were far from understanding.
Tuesday Nagai-san and Brian Van Zante took our team hiking to Umegashima (Plum Island). It was about 2 hours away, but the drive was really beautiful
The countryside was full of small rivers and green mountains and fields of tea. We packed a lunch and headed out on the 1km hike which took about 20 minutes. At the end of trail is a 40-50 foot waterfall where we ate our lunch and just spent a little time reflecting.
Wednesday was the day of the English Class. SO we met together and ran through what was going on, I volunteered to lead this first class and then we'd rotate leaders from there. The class went pretty well we talked about the parable in Luke 12 with the rich man who stored up all his goods in bigger barns but then died soon afterwards and how then all his stuff did him no good. Only we didn't quite pull off the message. For the 1st class it went pretty well, there were 6 students there and everyone seemed to have fun, but even with Nagai-San's worning I think we still did not provide enough background information on the story and as a result the students ended up thinking that the rich man did a good job by building extra barns to store his extra crop, which then provided him with wealth to live and relax off of. So this next class our team will definitely try and be more deliberate about some of the activities and thought questions we use as we go over the latter half of that chapter about how "where your treasure is there your heart will be also" and not worrying about tomorrow as God takes care of birds and flowers and people are much more important to him than they are. So hopefully this week we can provide a much more focused and clearer message about the passage while still keeping it fun for the students. One of the students that has startted coming is actually one of the leaders of BEST club named Koturo, so he and I had a good chance to talk afterwards about school, mosquitoes and other things. I also helped him with some stuff for Thursdays creative time, a photo scavenger hunt, and tried to give him some ideas for the list of photos that people had to take (E.g. scene from a movie, spell out Japan with people, I cant believe we all fit in here etc..)
Thursday was SPORTS again (badminton) and for Creative Time we did the photo scavenger hunt. It went well and the students had a great time trying to get the americans to understand what they needed to do for the photos. Later we returned to JoyHouse and everybody presented their photos for the rest of the group. The results for most groups ranged from highly entertaining and creative to ......Ok .
Friday is our teams day off but we did split shifts babysitting one of the staffs baby boy, while he took Elbert, and Mandy to take the Japanese driving test which is an all day affair. Outside of that we just relaxed, I went to the beach and read some of Mere Christianity and tried to memorize more of 1st Peter.
Saturday our team had dinner at the house of the Leases. Mark and Yumiko Lease run the elementary and junior high ministry in the area and attend Joy fellowship so we just spent some quality time in fellowship.
Prayer requests

Health for the team
-the team has been passing around various colds and flu for a couple weeks now, so health would be a huge blessing

Clarity in locating my student

Dealing with homesickness
-the whole team has just started to talk about some of the things they miss from home and its really beginning to show that we miss our families.

Continued Harmony on the team
-So far our team has gotten along great but as we approach this 4th week people usually start to be less polite and a little more forward, so prayer for paitience and Godly attitudes toward each other.


I miss you all and want to thank you for your prayers, they are definitely being felt. I look forward to hearing from you soon, sorry about the length and dryness of this post hopefully in the future I'll be able to add more details.